The Hope Elementary School District Planning and Construction Management oversees new construction and modernization of all district facilities. The department is responsible for the district's short and long-term facility needs, including deferred maintenance projects and enrollment and staffing projections identifying facility needs.
Through careful planning and support from the community, Hope Elementary School District has prepared well to accommodate the current needs of our students, staff, and community.  In March 2020, the Hope School District community voters passed Measure J. This $47.4 million bond will provide funding for the modernization of our facilities, including new construction at Hope Elementary School, Monte Vista Elementary School, and Vieja Valley Elementary School.
The first series of $12 million was sold in May 2020, received in June 2020, and deposited in Fund 22 (Bonds). The district must spend 85% of those proceeds within three years. Staff predicts all $47.4 million proceeds will be spent by 2025. Closing out the bond program requirements by June 2026.
For more information, please see additional sections on the webpage to review the school site project list, timeline, and status.
Current projects include:
Vieja Valley Elementary School Multi-Purpose Building Modernization – Substantially Completed November 2022 – Closeout Phase
Vieja Valley Elementary School Alterations – November 2024
Monte Vista Elementary School Alterations and New Classroom Building – Bid Phase
Hope Elementary School Alterations and New Classroom Building – Planning Phases
Our mission is to develop in children the knowledge, skills and attitudes to instill a lifelong love of learning and to become productive and contributing individuals in a changing society.
Tamale Fundraiser is HERE!
Update from ELAC (English Language Advisory Committee)
Hello ELAC Families at Vieja Valley,
Please see the attached notes from our December 6th meeting.
We welcome you to join us on January 30th at 5pm in the library to speak further about EL topics for our children and families. There will be child care and pizza provided. Please fill this form out to have a proper headcount: https://docs.google.com/​forms/d/e/1FAIpQLSce_​VBQSP3u9mND6AggYthNDcAEr4m5AMo​ow2maR7to9Wjavg/viewform.
We also welcome you to the following ELAC meetings on February 28th, April 4th, and May 1st this year all at 5pm at the Vieja Valley Library.
Link to December meeting notes: click here
****
Hola familias de ELAC en Vieja Valley
Consulte las notas adjuntas de nuestra reunión del 6 de diciembre
Los invitamos a unirse el 30 de enero a las 5:00 pm en la biblioteca para hablar más sobre temas EL para nuestros niños y familias. Habrá guardería y pizza proporcionada. Complete este formulario para tener un recuento adecuado:https://docs.google.com/forms/​d/e/1FAIpQLSf8SJNg2ylcQ_​wQeLOBeF7r9rMpTv63IBl7bWTVJ4Gd​yVA0cA/viewform
También le damos la noticias de las siguientes reuniones el 28 de febrero, el 4 de abril y el 1 de mayo de este año a las 5:00 pm en la biblioteca de Vieja Valley
Enlace a las notas de la reunión de diciembre: haga clic aquí
---
¿Quiere saber qué está pasando con nuestro Comité Asesor del Idioma Inglés? Consulte el bloque de arriba: ¡la información está en inglés y español! Want to find out what is happening with our English Language Advisory Committee? Check out the blocks above - information is in English and Spanish!

Work continues to move along with our bond money! Check out the pod of classrooms near the playground and back of the school for improvements on our roofs, new air conditioning units, and new windows.

Mrs. Seigel-Boettner was nominated by our administration as "Teacher of the Year" for the Hope School District! She has been at teacher at VV for 27 years and we are lucky to have her kindness and skill with our youngest students.

We have a new link to the PTA website: click "School Information" and "PTA" above to get quick access to the site!

Our Jog-A-Thon was a total success! See the block above for details.
VV Jog-A-Thon: Good Times and Amazing Fundraiser!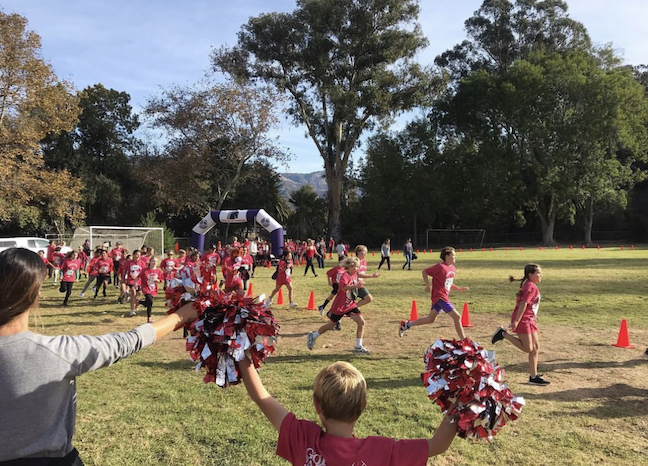 Thanks to our ENTIRE SCHOOL for helping reach our fundraising goal to support Specialists and fun programs at Vieja Valley! The students had a great time getting set to "adventure" around our field for 30 minutes to raise money for our PTA. Thanks to the incredible Jog-A-Thon committee (Lauren Andrews, Keri Bowie, Renée DePaco and Christina Ekonomi) and all that volunteered and supported with pledges!
Vieja Valley and The Great Kindness Challenge 2023!
We will be participating in the GKC this year the week of January 23rd! This is a great time for students, staff, and famlies to think about ways we can be kind toward Earth and others. We will also have "Kindness" as our next Character Trait for our assembly to think and focus on during the coming weeks.
Sorry, but there was nothing found. Please try different filters.