The Hope Elementary School District passed Measure J bond of $47.4 million dollars in March 2020. The district is beginning the launch of the Measure J bond program. It will include new and modernization projects at our three elementary schools – Hope, Monte Vista, and Vieja Valley.
The first series of $12 million dollars was sold in May 2020 and received in June 2020 and deposited in fund 22. The district must spend 85% of those proceeds within three years. Staff predicts all $47.4 million proceeds will bill spent by 2025. Closing out the bond program requirements by June 2026.
For more information please see additional sections on webpage to review school site project list, timeline and status.
Our mission is to develop in children the knowledge, skills and attitudes to instill a lifelong love of learning and to become productive and contributing individuals in a changing society.
Hip Hop Performance: Coming Soon!
Make sure to come to VV on Wednesday, Dec 14th at 10am for our First Annual Hip Hop Performance! We will hold it out on the blacktop and all are welcome. Be ready to get festive and have fun!
---
The assembly in November for our VV5 Character Building was "COOPERATION." Buddy classes helped us understand how we are "All In This Together" with a fun skit!

Be on the look-out for a Hip Hop assembly on Wednesday, December 14th.. It will be on the blacktop in the morning - please look at ParentSquare for information!

Our annual "Holiday Bazaar" is on Thursday, December 15th. Students will be able to sell items and help learn entrepreneurship. Come and get some great homemade/unique gifts!

Remember: there will be an early 1pm release on December 16th.

We have a new link to the PTA website: click "School Information" and "PTA" above to get quick access to the site!

Our Jog-A-Thon was a total success! See the block to the right for details.
VV Jog-A-Thon: Good Times and Amazing Fundraiser!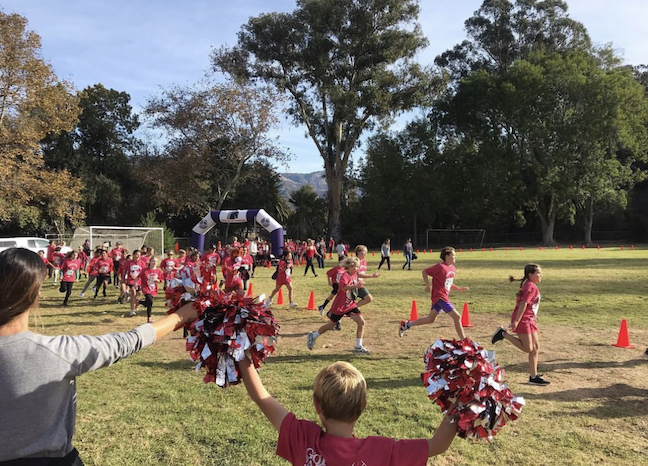 Thanks to our ENTIRE SCHOOL for helping reach our fundraising goal to support Specialists and fun programs at Vieja Valley! The students had a great time getting set to "adventure" around our field for 30 minutes to raise money for our PTA. Thanks to the incredible Jog-A-Thon committee (Lauren Andrews, Keri Bowie, Renée DePaco and Christina Ekonomi) and all that volunteered and supported with pledges!
Sorry, but there was nothing found. Please try different filters.